International Cotton Advisory Committee (ICAC) has recently suspended the publication of cotton price projections amid the drastic increase in fuel and energy costs, conflict in Eastern Europe, and others. ICAC will reevaluate the price situation in August and determine if it should resume price forecast projection modeling. High volatility and extenuating circumstances in global markets make it difficult for any modeling framework to produce accurate and useful information. Please note that this is only a temporary pause, and as soon as ICAC is confident in the model data, the organization will release projections.

Highlights from the July 2022 Cotton This Month include:

• With little movement in the numbers from last month, global consumption (26.15 million tonnes) is still expected to exceed production (25.91 million tonnes)

• Things are not expected to remain stable for long, with issues from the pandemic and conflict in Eastern

• Europe still impacting the market The cotton industry —and the entire planet — will face much worse consequences if the looming global food crisis comes to pass

•As has traditionally been the case, African nations will be hit the hardest by a food shortage
Australia's forecast has been revised upward slightly, adding 119,000 tonnes to the 2021/22 season and 41,000 tonnes for 2022/23. Consumption remains unchanged at 26.15 million tonnes, surpassing the expected production of 25.91 million tonnes despite Australia's larger contribution. Worse, there are growing concerns that the world will experience multiple famines due to the conflict in Eastern Europe, which spells trouble for everyone but especially African nations.

Pakistan has increased its cotton production than the previous years. During last fiscal year, Pakistan's cotton production was 1266000 tons which has increased to 1516000 tons this year. Currently, the main cotton producer is still China followed by India.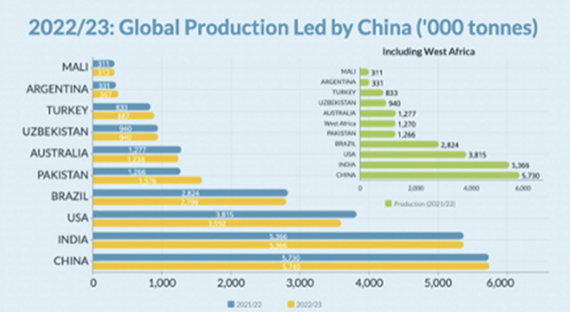 There is some good news, Africa has made gains in developing The African Continental Free Trade Area (AfCFTA), which went into effect on 30 May 2019, and the agreement has the potential to facilitate the movement of commodities across borders with the elimination of tariffs on most goods and services. The ICAC has been actively engaged in education and training efforts in several African countries, including the concept of regenerative agriculture. Those projects are longer-term but add significantly to the African cotton industry's outlook in the coming years.